Upper School Presentation Event 2022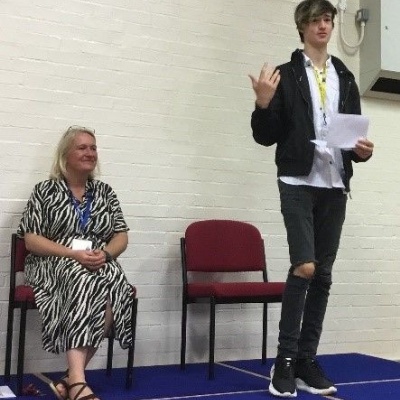 On Friday 8th July we welcomed back our 2021 Leavers for their presentation event that had been postponed from March.
Upper School Presentation Event
It was lovely to see so many faces of our previous students and see them receive their hard-earned qualification certificates. We were also very lucky to have an extra special guest join us for the event, Joseph Wells a former student who left us in 2020. Joseph did a lovely, inspiring speech that we have included below:
One Step at a Time…
I'm sure you've all worked very hard to earn these qualifications. This is a big step towards whatever goals or passions you may have, or maybe you're just opening up new opportunities. Wherever you plan to go, this is a big step and you'll now be working towards your next step.
I'm sure it's been challenging especially with recent obstacles in the last year, but you've pushed through it. Things will get hard in the future, but that's ok; you'll push through again. It doesn't matter how hard things are, or how long it takes or what it takes to get there…….You can get there, you can do it, it's all about pushing through it. You just need to believe in yourself, put in the effort and take each step one at a time. And for everyone else listening working towards their next step, you can make it too; one step at a time is all it takes.
By Joseph Wells, former Lampard Community School student.
We are very proud of all our former students are pleased that so many of them have signed up for the LCS Alumni so we can keep in touch and hear about all the wonderful things they do in the future.