Leavers' Assembly – Friday 24th June 2022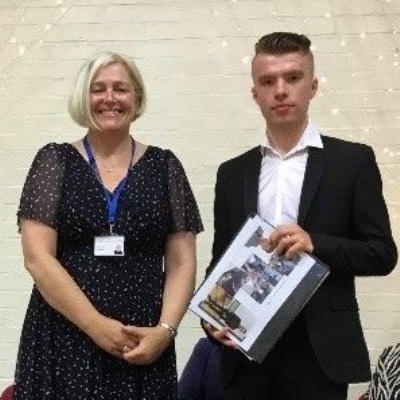 Every year the Leavers' Assembly brings a mix of different feelings. We feel very happy that our older students are ready for the next step in their lives and very proud that there is so much to celebrate about their time at Lampard…. but also, a little bit sad because we will all miss them very much. This year was no exception!
Students all received their school history folders as a keepsake for their time here which is full of photos, certificates, best work etc. Some students also won awards, which are listed below:
Head Teacher's Award: Jacob
Governors' Award: Lisa Marie and Niomi
Student Choice Award: Janos
The Sports Award: Harry
Citizenship Award: Kirsten
Work Experience Award: Archie
Tutor Awards: Jade, Cameron, Daisy and Saffy
Congratulations to you all! This year was extra special because it was also Mrs. Barham's last Leavers' Assembly. Archie did a lovely speech thanking her for all her wonderful work as Head Teacher (we think this made her cry even more!). We celebrated at the end by showing the Leavers' Video that staff have been working on in secret before the Year 11 were cheered out. Please do take a look at the video on our website!
Videos - The Lampard Community School