Evidence For Learning
The Evidence For Learning Family ap is now live!
The app is now available via the app store (Apple devices) and play store (android devices).
Go to your app store and search for Evidence for Learning Family, look for the app pictured below

Once the app is downloaded, you will be able to log in via the screen pictured right. You would have been sent the Domain and Username via email. The domain is: lampard (this is case-sensitive) and your username will be your email address. You will not have to log in again unless you change your details or need to reset your password.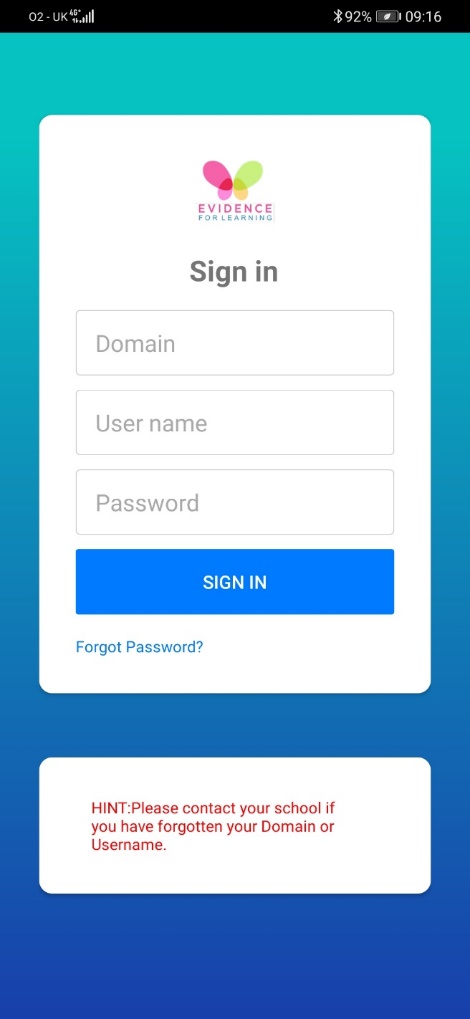 At Lampard Community School we use 'Evidence for Learning (EfL)' to record your child's learning. We take photos and videos of your child's learning and progress towards their Personal Learning Goals. This evidence is then uploaded into their Learning Journal which we share with you at termly Personal Learning Goal Meetings and will also be used to form the end of year report.

The Evidence for Learning programme contains a parent portal on which parents/carers can upload photos, short videos and descriptions of their child's learning or progress towards the PLG targets from home. We have successfully trialled this part of the programme and saw some wonderful sharing of evidence in school, at home and in their community.
We will be sharing evidence regularly and also publishing the learning journeys and end of year reports via the portal.
Please complete the form at the bottom of this page, once you have read our acceptable usage conditions below.
Acceptable usage conditions
Any use of the parent portal will need to abide by the following acceptable usage conditions: -
Images uploaded to the parent portal from school
Photos uploaded by tutors from school may contain your child within a group of children.
Students who are not allowed to be included in photos at school will not be included in group photos
In line with our safeguarding policy, no images from school should be uploaded onto any social media
EfL Parent Portal accounts will be deactivated if school-based images are used on social media
When sharing home based photos and videos please consider: -
People/children in the photos/images, must have given their consent for the image to be shared with school
The image/video must be appropriate for school use i.e. clothing/language/consider who or what is in the background of the image.
Once you have you log in, you can access the Parent Portal where you will find activities for your children to have a go at!